Deadline: 14/07/2018
The Three Seas Writers' Retreat in Rhodes
Under the auspices of UNESCO, The Int´l Writers' and Translators' Ctr strengthens cross-cultural...
The Three Seas Writers' and Translators' Council in conjunction with Harvard Square Editionswill host a residency program at the International Writers' and Translators' Centre of Rhodes for novelists. Of the writers selected, the jury will invite one for a full grant, excluding transportation.
Under the auspices of UNESCO, The International Writers' and Translators' Centre of Rhodes is is devoted to strengthening the contacts among the creative forces of the three seas – the Baltic Sea, the Black Sea and the Aegean Sea – countries and broadening exchange between them with the assistance of is partner – the Three Seas Cultural Board consisting of the representatives from Writers' Unions of the mentioned countries.
Situated on a hillside overlooking the Aegean Sea, near the middle of Rhodes town, it is divided into two parts – the main, traditional building which houses the offices, meeting room, library and other functions, and the newer wing which was opened in April 1997 as a Guest House. This wing constitutes a hostel facility and contains 10 single rooms, each with its own shower and WC. There is also a communal dining room and kitchen which can be used by guests who wish to prepare their own meals. The administrative office is situated on the first floor of the building.
Whether your novel is nearly finished or you are still just getting ready to start, apply to find your story at the Three Seas Writers Retreat. Participants will take part in workshops and receive personal tuition in developing your character and story, ironing out story problems, and finding their voice to tell their story, all in the inspiring surroundings of the town of Rhodes, Greece.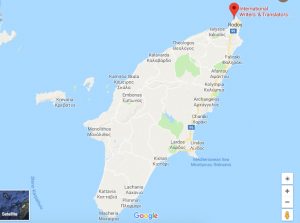 • Application deadline: July 14, 2018
• City and state of event, Rhodes Town, Rhodes, Greece
• Application guidelines: Please email a personal statement including short bio, and up to 5 pages double-spaced excerpted from your novel manuscript to info(at)harvardsquareeditions(dot)org
Cost including tuition, residency, wine and cheese night; not including travel expenses and the rest of the meals: 380 euros
Workshops will be run by:
• Writer and editor Fintan O'Higgins. Fintan has led workshops in drama, poetry and prose fiction and developed playscripts, feature films and written for television dramas such as the series 'Emmerdale'.
• JL Morin, author of short stories, poetry and four novels, including Trading Dreams, 'Occupy's First Best Selling Novel'. She is the winner of numerous awards including an eLit gold medal and a Dante Rossetti Book Award.


Participants will include award-winning and debut writers, and will arrive from various countries of the world.